Joseph Ratzinger, God and the World, 2000, p. 373: "There were in fact Christian hotheads and fanatics who destroyed temples, who were unable to see paganism as anything more than idolatry that had to be radically eliminated."

That's what paganism is! Yeah it has to be eliminated, it send countless souls to hell every single day!!!

Joseph Ratzinger, The Jewish People and their Sacred Scriptures in the Christian Bible, 2001: "As regards the first question, the situation is different, for Christians can and ought to admit that the Jewish reading of the Bible is a possible one"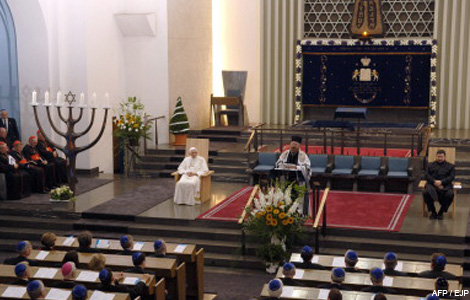 Antipope Benedict XVI, Address to a Rabbi, Monday, 16 January 2006: "Distinguished Chief Rabbi, you were recently entrusted with the spiritual guidance of Rome's Jewish Community; you have taken on this responsibility enriched by your experience as a scholar and a doctor who has shared in the joys and sufferings of a great many people. I offer you my heartfelt good wishes for your mission, and I assure you of my own and my collaborators' cordial esteem and friendship."

Good wishes for HIS MISSION? What is the Jewish mission? Denial of Christ and preaching the coming of a false Messias!
Benedict XVI, speech apologizing for his comments on Islam, Sept. 2006: "In the Muslim world, this quotation has unfortunately been taken as an expression of my personal position, thus arousing understandable indignation. I hope that the reader of my text can see immediately that this sentence does not express my personal view of the Qur'an, for which I have the respect due to the holy book of a great religion"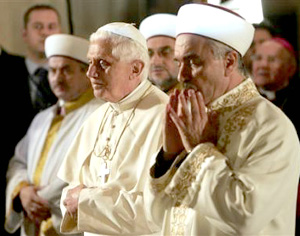 "Oh oh oh wait he's not pertinacious, though - ahem- and if he is, I can never know it until his cohorts denounce him! He's just a weak pope! Yeah! He can't help it if he's undermining the true Catholic Faith, denying dogmas and worshiping false gods! After all, the pope's expected to be infallible, not impeccable, or CATHOLIC!"
The argument that he is really the pope is BLASPHEMOUS AND RIDICULOUS!